No results were found for the filter!
Products from Spandau Pumpen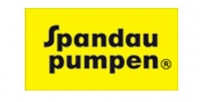 Another strong partner is the Berlin company Spandau Pumps, which was transferred to SKF Lubrication Systems Germany GmbH (formerly Willy Vogel AG) as an independent product area in 1986. Founded in 1932, the portfolio of sealless immersion pumps (patent granted in 1934) has been steadily expanded through in-house development and production. The clear success of Spandau immersion pumps is due to the high level of customer satisfaction and exceeding expectations.