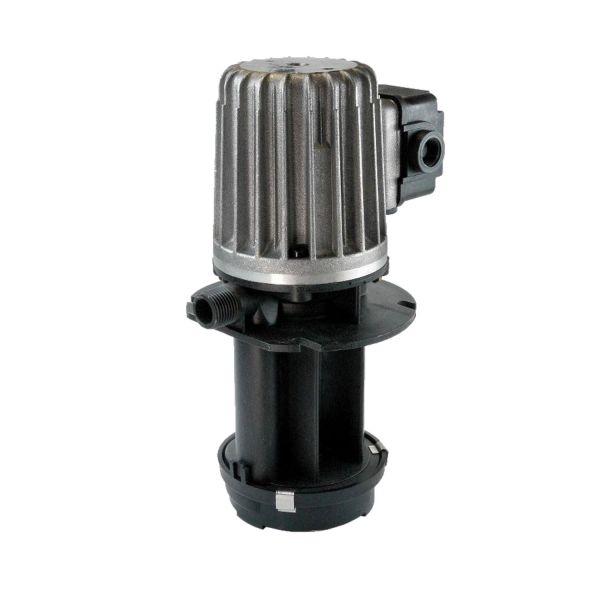 Beispielhafte Darstellung, Produkt kann abweichen.
Order number:

PR4-90+140

Graduation:

1

Minimum Quantity:

1

Maximum Quantity:

500
Fluids delivered: Emulsions, also with chemical additives, low-viscosity...
more
Immersion Pump PR4
Fluids delivered: Emulsions, also with chemical additives, low-viscosity oils, various qualities of water
Delivery rate: 30 L/min
Delivery head: max. 4 m
Motor: 230 / 400 V, 50 Hz, 0,33 / 0,19 A, 0,05 kW, 2730 rpm
Temperature range: 0°C to + 60°C
Installation: vertical
Connection: G 1/2 male thread
Direction of rotation (as viewed from above looking down on ventilation side of the motor): counterclockwise

Motor housing: Aluminium
Pump support: PPN
Pump bottom: PPN
Impeller: POM / GF
Shaft: ETG or stainless steel 1.4122
Antifriction bearings: Radial deep-groove ball bearing with two side plates (2 Z); with permanent lubrication
Splash guard: Splash ring above pump chamber
(Plus: splash ring underneath flange, V-ring underneath lower ball bearing)
Single-phase motor and 60 Hz versions are available - please contact us for other versions.

Main applications


Humidifiers, air conditioning
Sawing machines
Stone saws
Grinding machines
Cooling systems
Machine tools

Product Features


Centrifugal pump, 1-stage mode
Open impeller
Port dimensions to DIN EN 12157
Immersion depths 90 mm, 120 mm
Weight: 2.5 kg
Three-phase or single-phase motor

Options (on request)



Extension tube (50 mm)
Thermal circuit breaker in the winding or thermistor
Equipped with capacitor and mains plug, completely prepared for single-phase AC




Available downloads:
Sealless immersion pumps PR4
Compact, lightweight centrifugal pump auf plastic for clean, turbid or dirty fluids.
Machine tools equipped with PR pumps
Press Brakes (free embossing / embossing)
Drilling machines
Boring plants
Lathes (old lathe)
Manufacturing centers
Milling machines
Long-haul machines (Long-haul machine)
Guide and drawbar turning machines
Hole machines
Punching machines
Sawing machines
Further applications
Optical machines
Spandau Pumpen offers an outstanding solution to the pumping tasks faced in optical machines, such as those used in the manufacture of corrective lenses; special lenses for night vision equipment or binoculars; telescopes; photographic equipment and precision lenses.

Spandau centrifugal pumps are used in the processing of glass and plastics. Their high reliability when pumping emulsions and oils for sawing, polishing and grinding make them a strong component in any optical machine.

Polishing and grinding emulsions are used in machines for grinding and polishing. The particles are very fine but highly abrasive. In other words, all parts of the pump need to be made of resistant materials such as plastic or stainless steel.
Temperature control and cooling units
Temperature control means bringing a medium to a certain temperature and keeping it there. The process goes in both directions, cooling and heating. Some manufacturers have specialized in cooling, some in heating. However, the trend today is towards building combination units that can be used for both cooling and heating. For example, in the case of temperature control of injection molding tools, the mold is first heated; the plastic is introduced into the mold, and then the process is put in reverse. In other words, the mold is cooled down.

The number of manufacturers offering these kinds of devices has been growing strongly for several years with many new small- to medium-sized companies coming into being. This is because the technical processes in many industries are changing so that an additional cooling step is necessary.

The cooling capacity of the units ranges from a few kW up to several hundred kW. That explains why so many different pump models (in terms of rated power) are required.